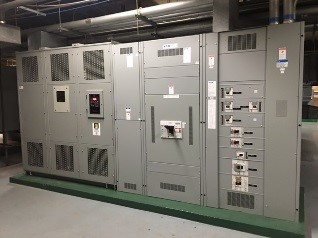 Location:
Nashville, Tennessee
Architect: 
Engineer: I.C. Thomasson
Contractor:  
Wolfe & Travis Electric
Contract Value:  
$4,472,000
This project consisted of replacement of main switchgear in (7) State Office Buildings in downtown Nashville Tennessee.
The Buildings are:
Tennessee Tower
Andrew Johnson Building
Andrew Jackson Building
Rachel Jackson Building
Citizen Plaza
James K Polk Building
Davey Crockett Building

The scope included replacement of:
E. Unit Substations
Medium Voltage S&C Switchgear
Fused Disconnects in Eaton Switchboards
Various Switchboard Breakers
5kV Feeder to the 28th Floor of Tennessee Tower
During this effort we also performed maintenance and tightening of all electrical mechanical connections throughout the buildings. The building all remained in operation each day. All outages were scheduled with NES and work performed between 6pm Friday to 6am Monday.
The project demanded extreme scheduling efforts. Each building had multiple departments and each had their own agenda and requirements including the Tennessee Performing Arts Center.
Each building had its own effort at coordinating and ensuring the existing switchgear was able to be removed and new installed inside the time frames which meant that temporary feeds and multiple outages were required at each location. A New Mechanical HVAC Unit was installed and ceilings repaired in the Andrew Johnson Building. A 28 story 500mcm 5kV secondary feeder was replaced in Tennessee Tower which required special cable reels with breaking systems to ensure safe drop pulls thru (7) pull boxes on different floors.
At the end of each outage a building wide verification of all systems and equipment was back in operation and ready for the next work day.
Wolfe & Travis being the "Prime Contractor" managed the project, created the schedules, planned the outage, coordinated the subcontractors and coordinated all utility efforts as well as perform the electrical work.